Share
The Future of Branding
First Edition
---
---
December 2015 | 492 pages | SAGE Response
New ideas change the world. From social movements to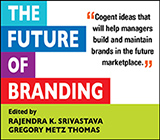 scientific discovery the power of an idea is to reshape the world, who we are, and how we live. Changes in the increasingly dynamic competitive environment require a focus on what should be done, not just what is currently done. The inspiration for this book is to provide an outlet for cogent ideas that will help managers build and maintain brands in the future marketplace.
Written by the leading minds management from around the globe who are redefining best practices in managing brands, It examines the future of branding on key concepts including brand performance management, brand strategy, brand building, revitalizing brands, brand valuation, brand analysis, brand protection, and brand experience. The all-star team includes:
Martin Roll, Kevin Lane Keller, Don E. Schultz, Bernd Schmitt, Jean-Noel Kapferer, , V. Kumar, Bharath Rajan, Lluis Martinez-Ribes, Shi Zhang, Jean Yannis Suvatjis, Leslie de Chernatony, Vanessa M. Patrick and Henrik Hagtvedt, Gregory M Thomas, Jeffrey Parkhurst Srinivas Reddy, Anupam Jaju, Werner Reinartz, Jeffery Andrien, Paul Benoit, Philip C Zerrillo, Cem Bahadir, and Rajendra K Srivastava.
Preface
Acknowledgments
I: BRAND STRATEGY
Jean-Noel Kapferer
Selecting the Brand Architecture to Match Your Strategy
V. Kumar and Bharath Rajan
A Strategic Approach to Grow Profits: Defining, Measuring, and Maximizing Customer Value
Lluis Martinez-Ribes
Branding in Retail
II: BRAND BUILDING
Bernd Schmitt and Shi Zhang
Brand Identity: Brand Naming Process and Brand Linguistics in the International Context
Jean Yannis Suvatjis and Leslie de Chernatony
The Six-station Model of Corporate Identity: Developing and Assessing the Model
Kevin Lane Keller
Brand Development Processes and Planning
Bernd Schmitt
Managing the Brand Experience
Don E. Schultz
Rethinking Brand Development in an Interactive Marketplace
Vanessa M. Patrick and Henrik Hagtvedt
Luxury Brands
Gregory M Thomas
The Dynamics of Brand Trust
III: LEVERAGING BRANDS
Martin Roll
Branding and Emerging Markets
Jeffrey Parkhurst
Opportunities and Risks in Co-branding and Licensing
Kevin Lane Keller
Brand Revitalization
Srinivas Reddy and Anupam Jaju
Brand Identity Strategy for Mergers and Acquisitions
IV: BRAND PERFORMANCE MANAGEMENT
Werner Reinartz
The Great Debate: Managing Brands versus Managing Customers
Jeffery Andrien, Paul Benoit, and Philip C Zerrillo
Brand Imperative: Protecting Your Most Valuable Assets
S Cem Bahadir
Hidden Value of Brands: Brands in Mergers and Acquisitions
Rajendra K Srivastava
Role of Brands in Managing Innovation
Index
"I was impressed and delightfully surprised with the Future of Branding. It is a senior marketing executive's bible for rigorous thinking and analysis for growth and profitability. It provides a vital range of systematic frameworks and techniques for managing brands not covered in other books. Get it before your competition does!"
Group Chief Executive, NTUC Enterprise Cooperative Limited, Singapore
---
"The book is a very useful tool for managers and practitioners involved in all aspects of branding. A lot of how to's and discussions of strategies from leading thinkers in the field of branding mean that this book can be used as a ready reference. Speaking as someone whose business is centered on building a brand, I'd make it available throughout my organization."
CEO, Eu Yan Sang International Ltd, Singapore
---
"Srivastava and Thomas have assembled some of the best minds and their latest thinking on how to build, protect, and leverage brands to capture new opportunities and fully realize a brand's economic potential"
Professor of Marketing, Wharton School of the University of Pennsylvania
---
"The role of brands is changing rapidly and dramatically with the rise of digital marketing and addressability, the growing power of emerging markets, and the key role of value chains in providing ecosystems of products and services. A changing role does not mean a decreasing role, but it does provide an urgent call for creative adaptation. This book brings together some of the best minds in marketing to understand the issues involved in this turbulent environment and provide ideas as to how they might be addressed. As such, I consider it to be essential reading for both academics and managers."
Professor of Marketing, Joint Appointment at London Business School & Australian National University
---
"A nice, tight compilation of guru-inspired commentaries covering many of the foundations, facets, and fallacies of branding in a hyper-connected digital world. The Future of Branding provides a multi-disciplinary view of how to build brand value using customercentric, gratification strategies. Drawing on expert insight, this book provides a banquet of views with a more palatable and enjoyable content snacking experience."
Executive Director, Chief Marketing Officer (CMO) Council
---
"Today's consumers are confounded by an endless stream of product information in our always-connected, global economy resulting in choice fatigue and purchase indecision. The Future of Branding is the definitive roadmap for the students and managers of enduring brands who are attempting to navigate this competitive landscape and consumer reality. It provides turn by turn guidance to help develop strategy, measure branding effectiveness, narrow focus on profitable customers and assess the true value of a successful brand. Don't attempt to drive your brand without it."
SVP Design – IHG and Serial Hospitality Brand Builder
---
"This book comes at a time when brand owners are being challenged by technologies that are changing consumer behaviors and new business models that are disrupting traditional markets. One thing remains the same, consumers still need products to buy and ideas to buy into, but how we build branded relationships with consumers has changed forever. This book is an essential guide for marketers today.
Brand marketing is changing and Lluis Martinez-Ribes' chapter gets straight to the point. Retailers are no longer destinations that sell branded products, they are brands in their own right. That requires new thinking and new approaches, this book signposts the way."
Global Chief Retail Officer, Cheil Worldwide Inc.
---
A valuable guide for practitioners and managers involved in brand management as well as academicians dealing with the subject as it presents most recent thoughts on ever-changing role of brand…. A must-read for all interested in the theme…the book offers valuable insights on the various dimensions on the subject that have been dealt with brilliant examples and illustrations and is a notable contribution in the sphere of modern management.
Vol 17 (Issue 6), December 2016
---
The book is well supported by appropriate and strong researches from international settings; the book brings quite significant and emerging concerns about branding on a scholarly as well as professionally strong platform…all said and done this book is strongly recommended for all stakeholders in branding. It will update them as well as provide rich nourishment for their quests in several areas connected to branding.
Volume 20 (Issue 4), December 2016