Share
Purdah to Piccadilly
A Muslim Woman's Struggle for Identity
First Edition
Zarina Bhatty - Former President of the Indian Association for Women's Studies (IAWS), New Delhi
Critical Acclaim
---
---
April 2016 | 220 pages | SAGE Select
Tracing the life of Zarina Bhatty,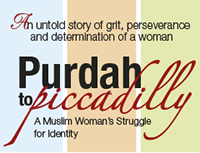 a Muslim woman born and brought up in pre-Partition India, this memoir narrates the experiences of a woman who strove to break out of the stereotypical roles imposed by the society of her times. It chronicles her life over 80 years, portraying the political and social conditions of undivided and post-Independence India. Zarina's story is a story of grit, perseverance and determination to battle against all odds —a story that was waiting to be told.
Preface
Acknowledgements
The Background
Introducing the Family
Ancestral Homes
School and Burka
Exposure to the Freedom Movement
India to England
Ups and Downs
Experiencing the Communist Regime
Return to India
Destiny Plays a Hand
Awakening to Feminism
Joining USAID
Women's Movement in India
And Life Goes On
Afterword
The title of the book is very apt, literally and metaphorically. The book follows the journey of a Muslim woman's struggle for creating an identity in a world where a woman herself is a non-entity… There are two of looking at the narrative. One, how right from her childhood Zarina challenges the norms and rules of the society prevalent in her time. Another perspective would be how Zarina became a crusader of her own cause.

---
"Coming-of-age story of not one but three generations… holds promise and is highly inspiring in every aspect."